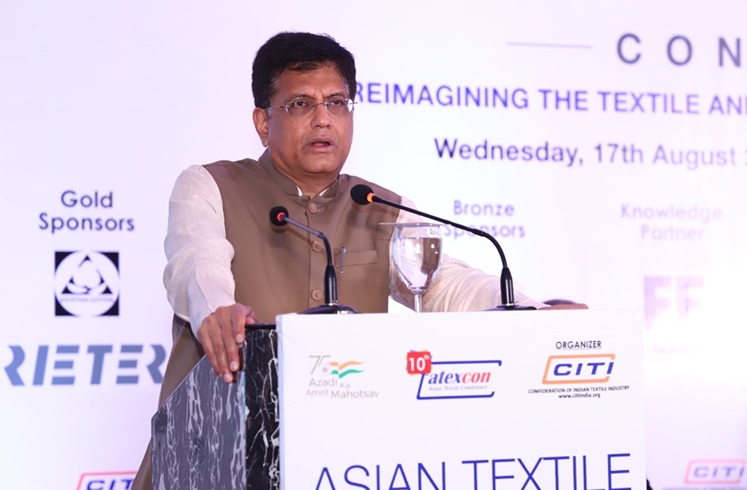 Textiles minister proposes 5-point mission for India's textile industry
Union Textiles Minister Shri Piyush Goyal has issued a five-point mission to India's textile industry at the inauguration of the 10th Asian Textile Conference in New Delhi. He said if the industry focused on innovation, sustainability, digitalization, new products and the use of free trade agreements (FTAs), it could grow in size to $250 billion over the course of the year. the next 5 to 6 years and the textile industry would be able to export. of 100 billion dollars.
Shri Piyush Goyal was addressing the captains of industry at the 10th Asian Textile Conference (ATEXCON). Earlier, State Textile Minister Darshana Jardosh, Textile Secretary Upendra Prasad Singh along with industry veterans and experts also spoke at the conference.
The Minister said it was nice to see the industry seriously discussing innovation for productivity and expansion. Industry can optimize its resources for demand by innovating its system. It can also use innovative ideas and digitization on the supply side. The industry can manage fierce competition more effectively through innovation and digitalization. He said sustainability is very important for India's textile sector which can reduce the pressure on the environment by using reusable resources. Industry can also reduce production costs through sustainability.
Shri Piyush Goyal said digitalization is another area that can help optimize the entire value chain. He said he was very happy to know that captains of industry were already talking about digitization. In the current era of information technology, every industry is benefiting from new technologies like blockchain and more. He suggested that the industry should think about high quality products and basic products like zippers and embellishments, which India's textile industry is currently importing. High quality products can give a good image to the industry.
The minister said industry should strive to derive maximum benefit from current FTAs. Such agreements are arrangements between nations to grant each other flexibility. After the signing of the FTAs, it was the duty of the industry to take full advantage of them. The minister said the government is focusing on signing more FTAs ​​with developed countries.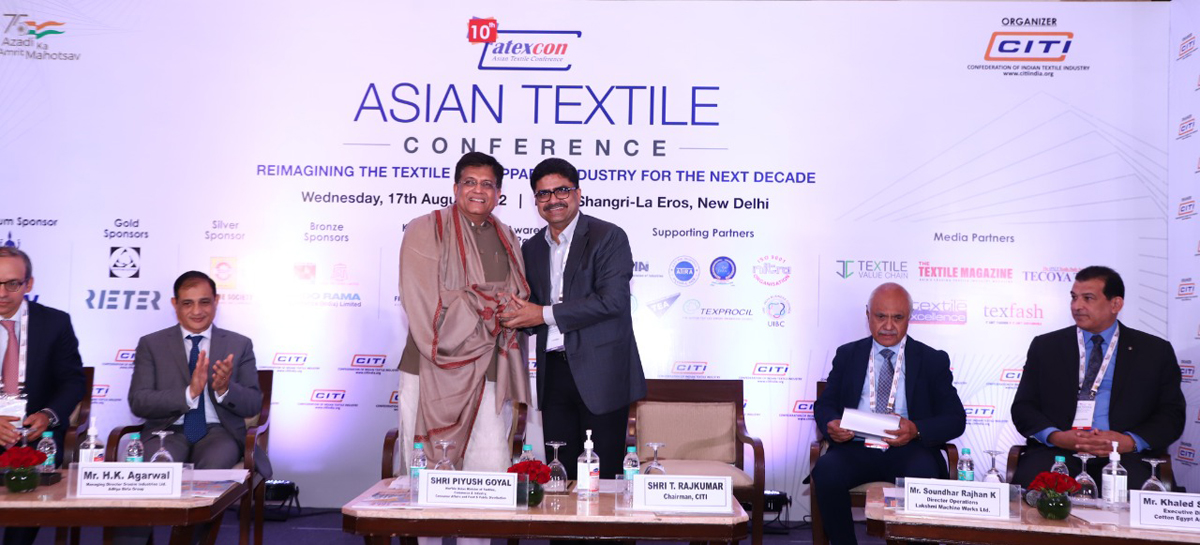 Shri Piyush Goyal appreciated the futuristic approach of the 10th edition of the Asian Textile Conference. He recalled that Indians were short of clothes 75 years ago when the country became independent. However, India has managed to overcome this challenge. He added that the industry is now working towards Prime Minister Narendra Modi's vision.
CITI and Egyptian Cotton also signed a Memorandum of Understanding (MoU) in the presence of the Minister of Textile. Both industry bodies will work together for mutual benefit.