India's textile industry could export $100 billion in next 5-7 years – President of TEXPROCIL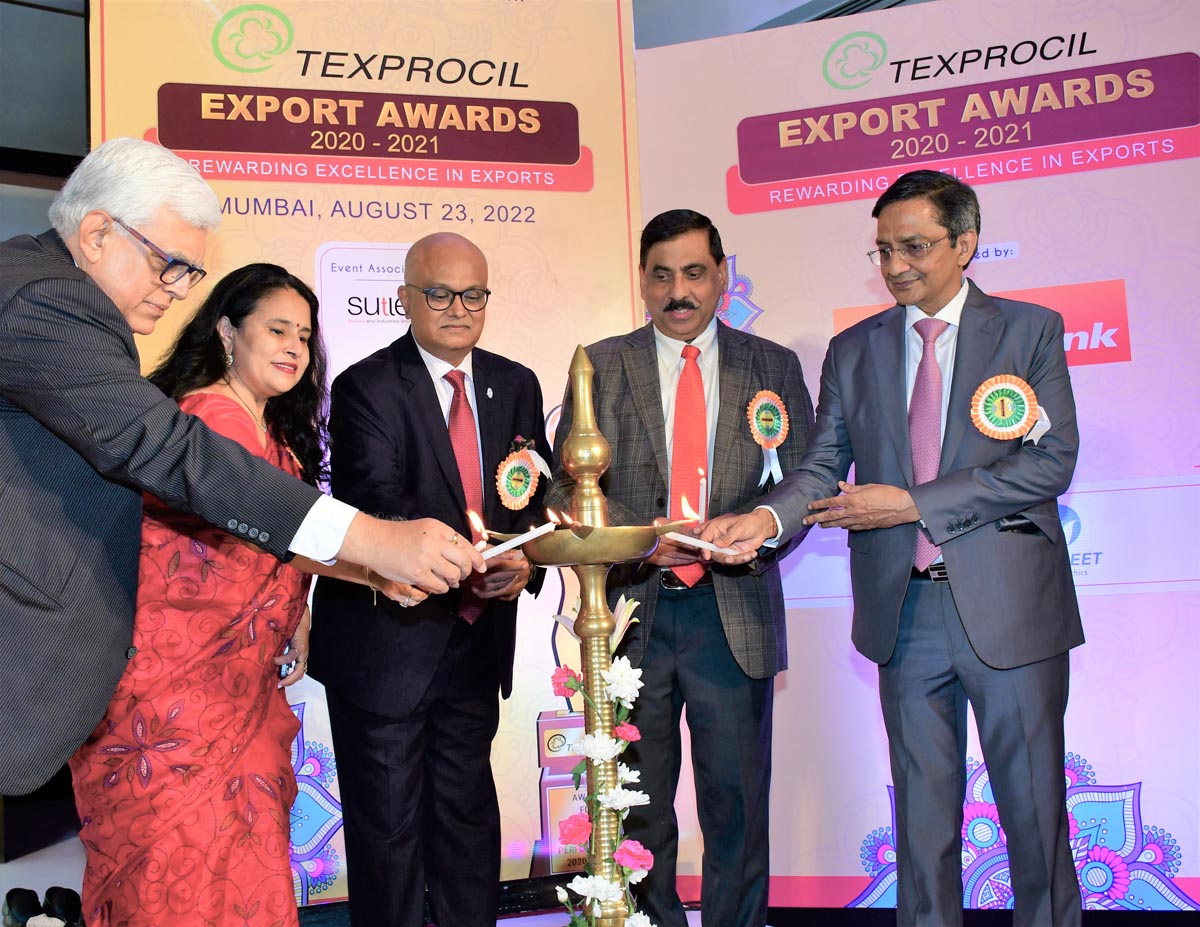 India's textile industry could export $100 billion in next 5-7 years – President of TEXPROCIL
Shri Upendra Prasad Singh, Union Textile Secretary, said the government is considering value-added exports such as fabrics, garments and home textiles as raw material exports may not increase further due to the increase in local demand.
While congratulating the winners of the TEXPROCIL Export Awards 2020 – 2021 on August 23, 2022 in Mumbai, he informed that the government has commissioned the PLI Scheme, MITRA Parks Scheme, GATI Shakti Scheme with a view to attracting investment in the sector , reform infrastructure and address logistical bottlenecks. He also said that focusing on key growth areas such as "sustainable textiles", "technical textiles" and "natural fibers" and high-end technology is the success mantra for the company's future growth. textile industry.
Mr. Upendra Prasad Singh and Mrs. Roop Rashi, Textiles Commissioner, congratulated the winners of the TEXPROCIL Export Awards 2020 – 2021 in Mumbai on August 23, 2022. The Cotton Textiles Export Promotion Council (TEXPROCIL) distributed 61 awards to 45 companies in 33 categories.
Shri Manoj Kumar Patodia, Chairman of TEXPROCIL, said that textiles and garments exports reached their highest level ever in 2021-2022 with an export turnover of $44.4 billion, in 40% growth over the previous year. During the same period, exports of cotton textiles (including raw cotton) increased by 54%, reaching a level of USD 16.42 billion. Over the next 5-7 years, India's textile industry could grow to USD 250 billion and export USD 100 billion.
He further added that as far as FTAs ​​are concerned, the industry is already striving to derive maximum benefit from the current FTAs ​​with the United Arab Emirates and Australia, which provide zero-duty access to Indian products in these markets. Concluding FTAs ​​with Canada, EU, UK, Israel and GCC countries will give new impetus and impetus to trade. The government has devised a Rupee Trading Facility that will help Indian suppliers to export textile products to countries like Russia, Sri Lanka and Iran.

Shri Patodia also highlighted the link between TEXPROCIL and Control Union for traceability as it has gained popularity lately. This will help companies across the value chain to subscribe to the General Certificate of Conformity program and ensure full traceability from the finished product to the fiber stage.
The President highlighted issues which, if addressed, could help India increase its exports. Some of these issues were import duties on cotton and Indian cotton prices which he said needed to be regulated as they were higher than international prices. Shri Patodia also spoke of the need to increase RoDTEP rates on knitted fabrics and items falling under HS 9404 which were by definition home textiles, but enjoyed lower rates than home textile items.